The Feast of St. Thomas Aquinas and the DSPT Mission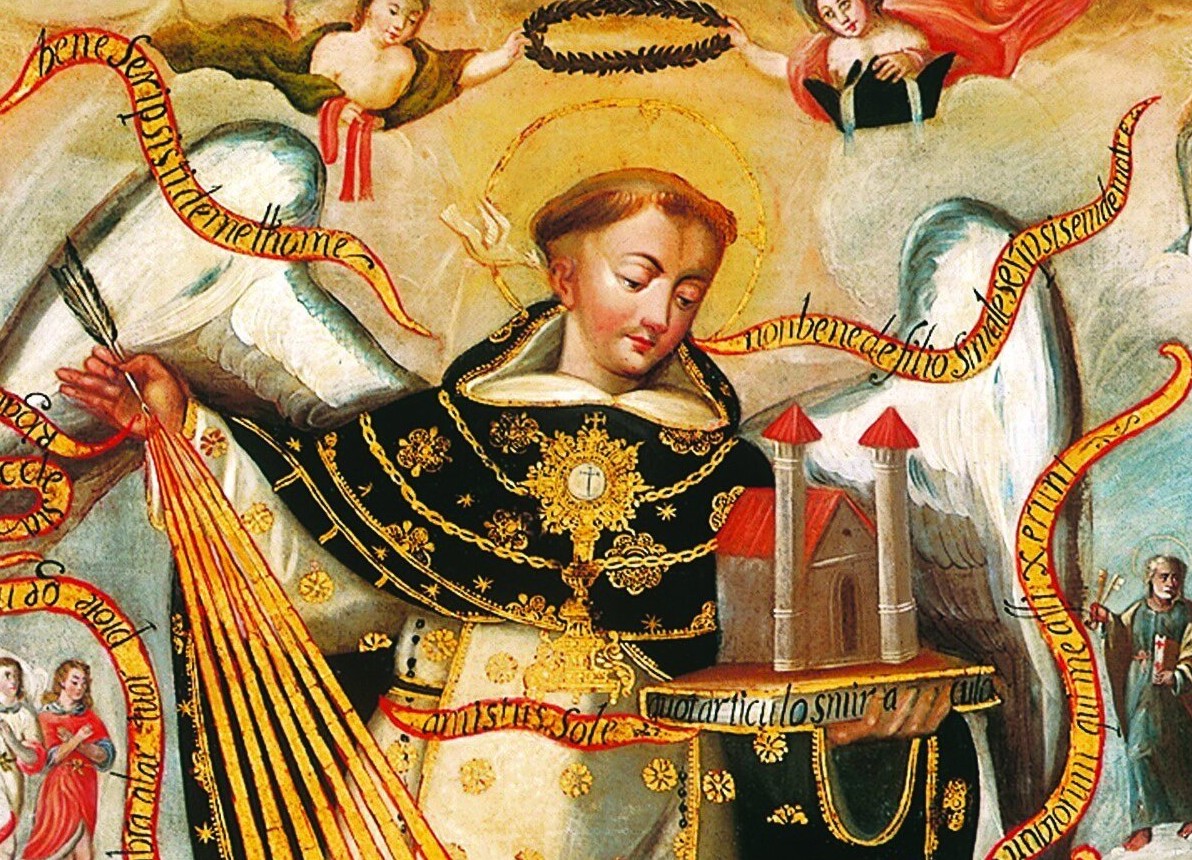 The mission of the Dominican School of Philosophy & Theology is to pursue truth, as revealed by the Gospel and discovered by human reason. On this Feast of St. Thomas Aquinas, we reflect on why we look to St. Thomas as exemplary of this tradition of classical philosophy and Catholic theology.
Throughout his works, St. Thomas has lustrously integrated truths discovered by human reason (philosophy) in his theological works. This engagement with philosophy while doing theology is something DSPT professors encourage in the classroom and demonstrate in their scholarly works.
DSPT also encourages students to imitate St. Thomas in his approach to the doctors of the church. The eminent scholar and theologian Cardinal Cajetan once said that, "because St. Thomas most venerated the ancient doctors of the Church, in a certain way he seems to have inherited the intellect of all" (Cajetan, Comm. Summa Theol.). The truth in this statement is apparent to those who have engaged with the works of St. Thomas. As a community of scholars, we strive to take St. Thomas as our guide when we approach the doctors of the Church, so that we may also benefit from the intellect of all. In this way, we grow in wisdom and deepen our understanding of the Catholic faith.
Aquinas certainly venerated the Church fathers, but even more profoundly he venerated the Word of God. Although some scholars consider Aquinas primarily as a philosopher, recent scholarship has highlighted his work as a theologian, where Sacred Scripture, along with the tradition of its interpretation, serves as the primary source. As a community of scholars at DSPT, we order our own studies in light of Scripture and Tradition. In so doing, we emulate the master theologian, a saint, and the universal doctor of the church, the angelic doctor St. Thomas Aquinas.
This year, we celebrate the 7th Centenary of the canonization of St. Thomas Aquinas on July 18, 2023, and his 750th death anniversary on March 7, 2024. As such, the Holy See has granted the petition of a "plenary indulgence on the properly disposed faithful who will participate in the Eucharistic celebrations organized by the Dominican Family in our churches and schools on the important occasions of the jubilee of the canonization and death of St. Thomas Aquinas, and on the faithful who will make pilgrimages to Churches, shrines and oratories under his patronage. The double jubilee celebrations will be from 28 January 2023 to 28 January 2025."
For more information regarding the plenary indulgences for the jubilee see the letter from Fr. Gerard Timoner III, OP, Master of the Dominican Order, below: